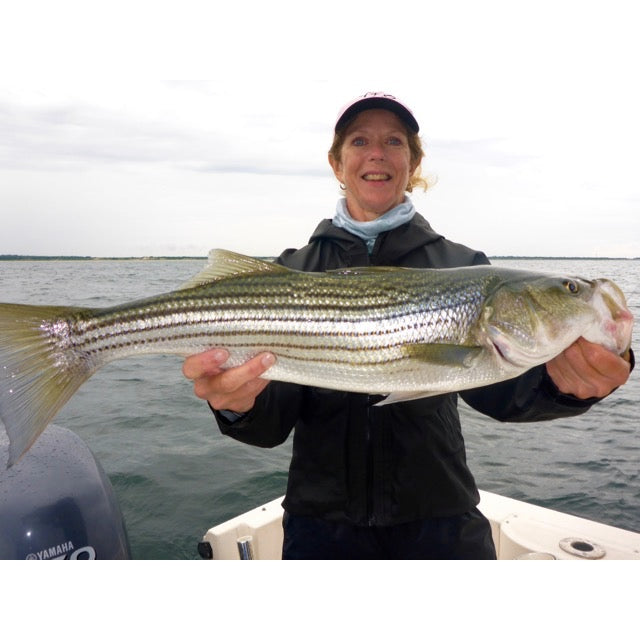 A great way to improve your fly-casting skill to be prepared for those critical fishing situations or the ideal way to get started in this sport. 
Lessons are two hours long.  Instructors will contact you shortly after checkout for scheduling details. If you do not hear within a week, please contact the Bears Den to confirm your contact information is accurate.

Lesson Availability:
July/August: Weekends only, 3:30pm-5:30pm
September/October: Saturday and varied weekdays, 3:30pm-5:30pm
UNLESS WE HAVE AN EXCEPTIONALLY WARM DAY,
WE DO NOT TEACH IN DEC, JAN, & FEB.
Attention Beginners!
Are you just starting out Fly Casting? Have you always wanted to learn to fly-fish? Or have you fished for several years and feel you could improve? This introductory lesson will teach you equipment basics and fly casting fundamentals that will last you a lifetime. This is a great way to get started in fly-fishing!
Attention Experienced Fly Casters!
Whether you're looking to cast 90 feet to a cruising bonefish or to improve your casting in windy conditions, or get started with Spey casting, a customized lesson will put you on the right track to improving your fly casting proficiency and allow you to focus on enjoying your fishing time.
Top-quality equipment featuring TFO and Winston Rods with Hatch and Ross reels can be provided if needed. It is not necessary to purchase equipment before a lesson.
Locations
I have a few carefully selected areas, which have historically been good locations; they include, Medway, Taunton, and Hopkinton.
These locations are generally convenient for most people; you can select the one that works for you.
UNLESS WE HAVE AN EXCEPTIONALLY WARM DAY,
I USUALLY DO NOT TEACH IN DEC, JAN, & FEB.
Sheila M. Hassan FFI Master Certified Casting Instructor
Sheila is a Fly Fishers International (FFI) Master Casting Instructor (one of less than 250 in the world) and teaches fly casting throughout New England. She is the chief instructor / program director at the Wulff School of Fly Fishing in the Catskills and a member of the TFO Rods, R.L. Winston Rods, and Hatch Reels Pro Staff.
She has traveled extensively catching (and releasing) everything from bluegill to blue marlin, and she holds an IGFA Women's Fly-Rod World Record for both Bonefish and Bluefish. Sheila performed a number of the fly casting sequences in George Roberts's book, Master the Cast: Fly Casting in Seven Lessons.
She has published her own book, Fly Casting: A Systematic Approach. Her second book, "Starting in the Salt: Saltwater FlyCasting," is now available.
When she is not casting or fly-fishing, she works as a Nurse Practitioner in Boston. She teaches because she loves to share this sport with others.
Capt. Bill Hassan FFI Master Fly Casting Instructor
TFO Rods - Pro Staff
Hatch Reels Pro Staff
Columbia Sportswear, Pro Guide