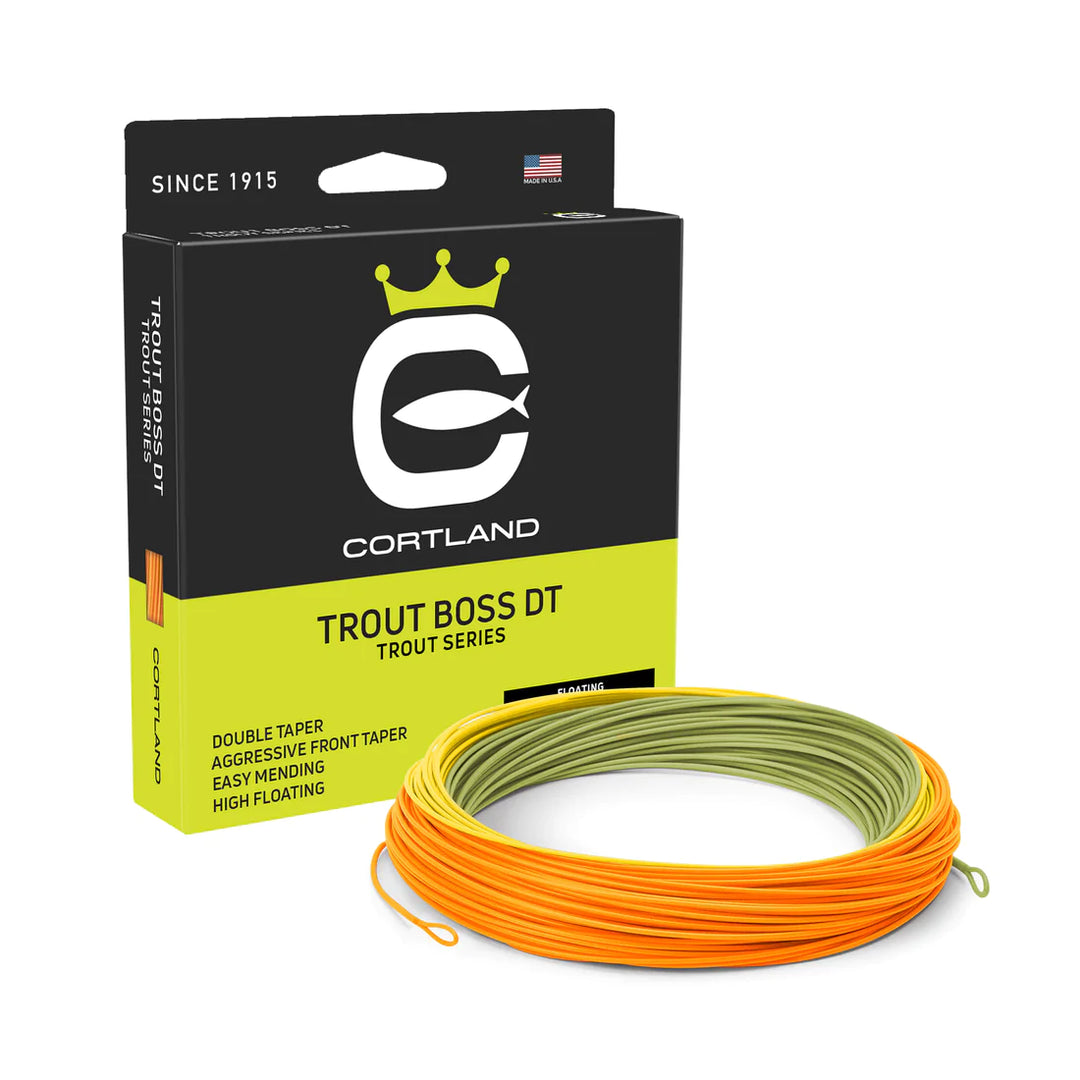 Cortland Trout Boss Double Taper
---
In stock, ready to ship (See Below)

Inventory on the way
---
WATER: Freshwater
LINE:  Floating
TAPER: Double Taper
LENGTH: 80ft / 90ft
CORE: Braided Nylon Multifilament
• Aggressive Front Taper
• Easy Mending
• High Floating
Trout Boss Double Taper features an aggressive front taper that loads quickly for short range delivery. Long level body is ideal for roll casting at greater distances.
SPECIES: TROUT / GRAYLING
| LINE SIZE | GRAIN WEIGHT | TOTAL LENGTH |
| --- | --- | --- |
| DT 2 | 100gr | 80ft |
| DT 3 | 120gr | 80ft |
| DT 4 | 140gr | 90ft |
| DT 5 | 160gr | 90ft |
| DT 6 | 185gr | 90ft |
TROUT BOSS DT BREAKDOWN
From tiny spring creeks, to large rivers, the Trout Boss DT will handle every fishing scenario. We developed this line for the anglers that prefer the feel, drift and cast-ability of a double tapered fly line.
The Trout Boss Double Taper excels in multiple techniques including indicator fishing, casting dry flies or throwing small streamers. Our Trout Boss DT is built a full line size heavy to match fast modern action rods, generating maximum loading power on roll casts.

The Heat Tempered Surface (HTX) coating seals out dirt and particles that can hinge your shooting ability. The HTX coating keeps your line floating high day in and out. This line will perform at the highest level all winter and summer long. This line is finished in three colors, allowing you to choose between a Hi-Vis orange head or a more subtle moss green head presentation.
If you are looking for a rock solid, all around trout line, the Trout Boss DT will make your time on the water more efficient and effective.

SPECIES: Trout, Grayling, Steelhead