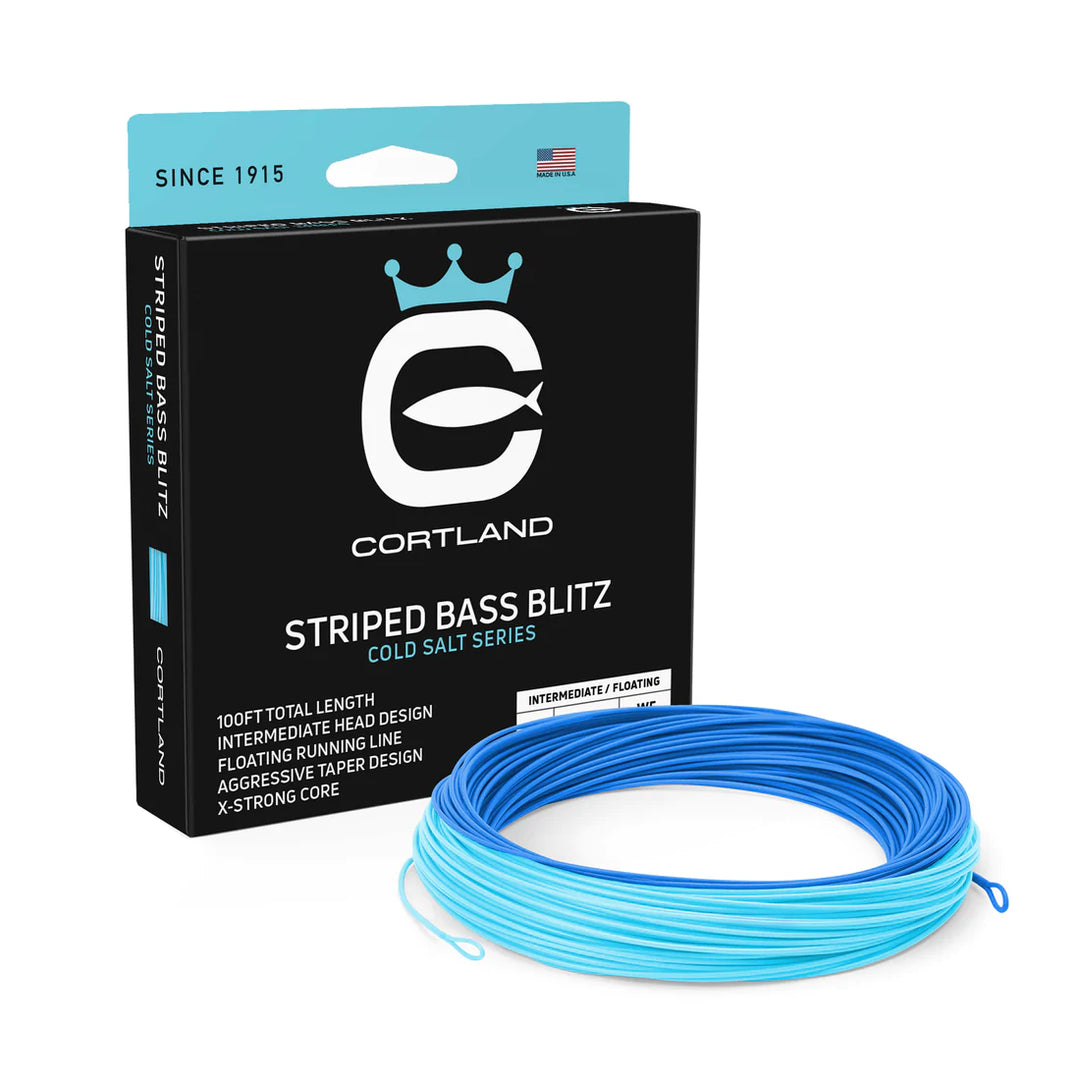 Cortland Striped Bass Blitz
---
In stock, ready to ship (See Below)

Inventory on the way
---
Cortland's Cold Salt Series Striped Bass Blitz fly line was designed to be the most versatile and easiest casting saltwater fly line on the market. The quick loading taper design punches through head winds with ease. 
Intermediate Head Design (1.5-2 IPS) 
Floating Running Line 
Aggressive Taper Design  
X-Strong Core 
| LINE SIZE | GRAIN WEIGHT | HEAD LENGTH | TOTAL LENGTH |
| --- | --- | --- | --- |
| WF 8 | 260gr | 26ft | 100ft |
| WF 9 | 305gr | 26ft | 100ft |
| WF 10 | 355gr | 26ft | 100ft |
STRIPED BASS BLITZ BREAKDOWN
Targeting Striped Bass on the fly requires capitalizing on quick opportunities and feeding windows.
We designed our Cold Salt Striped Bass Blitz line with a short compact head featuring a 20 ft. body that is powerful and easy loading. A shorter 3 ft. front taper easily turns over large striper patterns as well as weighted patterns. The 3 ft. back taper helps load the line quickly with minimal false casting when fish are close and casts need to be as efficient as possible.
Built on a braided nylon core, this line features our signature Cold Salt coating for staying supple and memory free in the coldest of conditions. Finished in Ice Blue and light Blue, this line is stealthy yet traceable.
The Cold Salt Striped Bass Blitz is perfect for capitalizing on quick shots and blitzing fish.
SPECIES: Striped Bass, False Albacore, Bonita, Bluefish