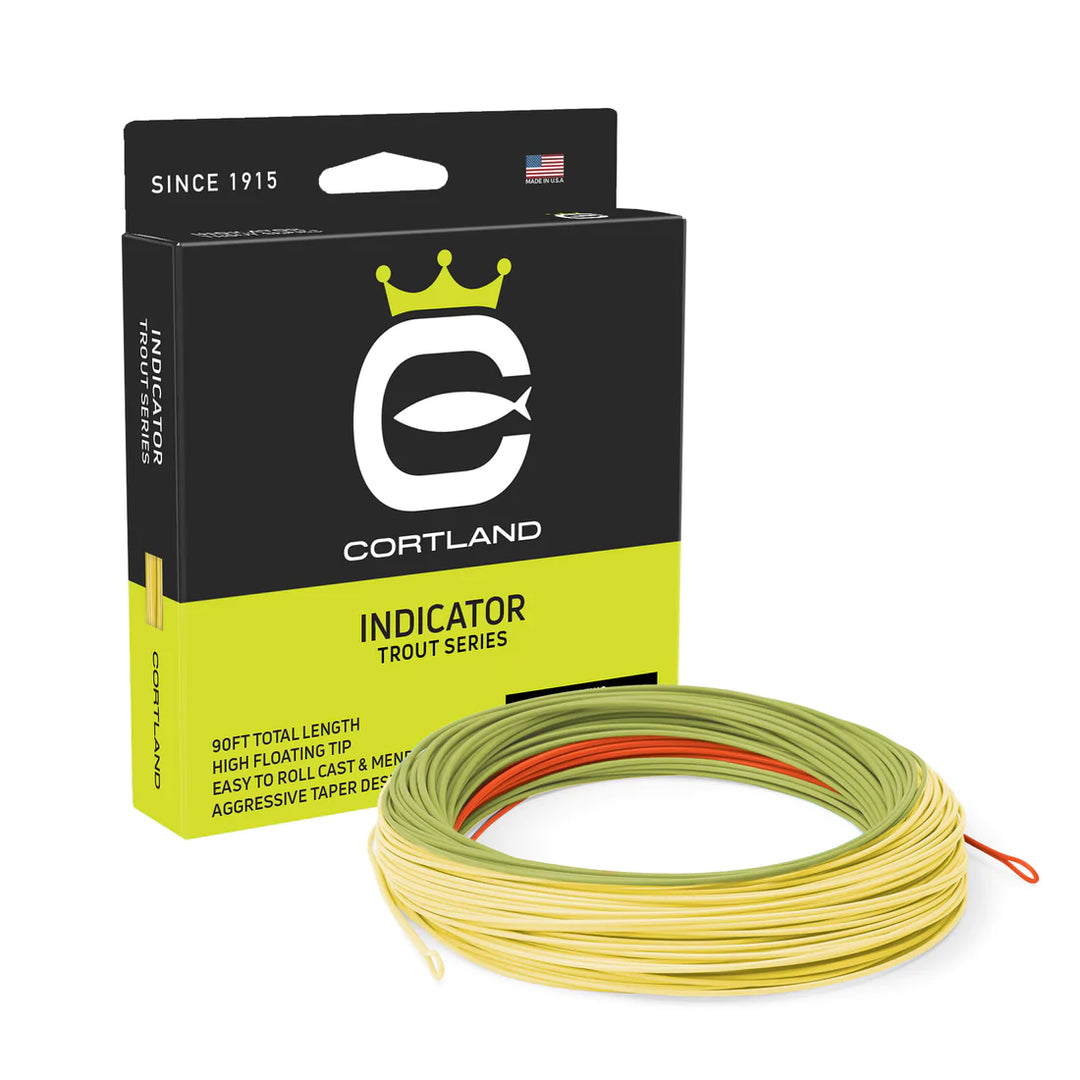 Cortland Indicator
---
In stock, ready to ship (See Below)

Inventory on the way
---
WATER: Freshwater
LINE: Floating
TAPER: Weight Forward
LENGTH: 90ft
CORE: Braided Nylon Multifilament
• High Floating Tip
• Easy to Roll Cast & Mend
• Aggressive Taper Design
The Trout Series Indicator features our new High Float Tip technology that keeps the tip of the line and leader floating on the surface when fishing in complex currents. Each line features a Hi-Vis tip that aids in tracking line during the drift.
| LINE SIZE | GRAIN WEIGHT | HEAD LENGTH | TOTAL LENGTH |
| --- | --- | --- | --- |
| WF 4 | 140gr | 48ft | 90ft |
| WF 5 | 160gr | 48ft | 90ft |
| WF 6 | 185gr | 48ft | 90ft |
INDICATOR BREAKDOWN
WATER: Freshwater / LINE: Floating / TAPER: Weight Forward / LENGTH: 90ft / CORE: Braided Nylon Multifilament
The Indicator fly line was designed for superior roll casting ability and controlling drifts at distance.
The Indicator fly line features a 16 ft. body paired with a 25 ft. rear taper allowing for roll casting and mending at distance. The 7 ft. front taper effortlessly turns over a variety of nymph rigs. This line features our signature Shooting Technology for a slick, quick shooting finish. The high floating, fire orange tip provides traceability so anglers never lose track of their indicator.

This line is built overweighted for generating maximum power in close ranges. The moss green and Pale Yellow color change helps the angler track and dial in distances. This line features dual welded loops for convenient rigging.

SPECIES: Trout, Grayling